About Us!
Why Edie's?
Silly Question!
Located just about two hours from everywhere (San Francisco, Sacramento, Pacific Coast) Edie's just might be the perfect destination for a weekend getaway or family vacation.
The Big Picture
Situated among towering pine trees and varied hardwoods at 2700 ft. elevation, Edie's offers one and two bedroom housekeeping cottages equipped with kitchenettes and private bathrooms, along with a three-bedroom house. This unique combination allows for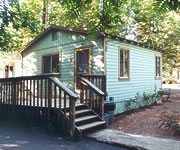 anything from individual escapes to large family reunions.
Other on site amenities include laundry facilities, swimming pool during the summer, social hall, barbeque grills, Bocce ball area and enough lawn area to stretch out and relax.
Can you tell me more?
Edie's is located in Lake County, California, in the Cobb Mountain area. Edie's Resort is a long time vacation destination valued for it's peaceful
atmosphere, scenic beauty,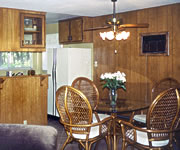 outdoor recreation options and crisp clean air.
So, it's a nice place in the middle of nowhere?
Care to adventure out? Within a ten-minute drive of Edie's, you can find yourself on one of the numerous mountain bike or hiking trails covering terrain from 2700 ft. to 3300 ft. elevation. You can also go bird watching add sighting humming birds to wild turkeys or go golfing at one of Northern includes California's best kept secrets—Adams Springs Golf Course.
Care to drive a little farther?
Within a half an hour drive, you will find outdoor activities such as fishing, boating, waterskiing, wine tasting, concerts, geothermal tours and some of the diverse terrain Northern California is famous for.
Anything else I should know?
If you are looking for valet parking, televisions or someone to entertain you, Edie's might not be the place. But if you want to relax, read a book in a quiet spot, have fun in the sun by the pool, play a game of Bocce ball or be on your own and explore the natural beauty of Lake County, this is the place for you and your family.
A Family Owned & Operated Resort on beautiful Cobb Mountain, Lake County California.